DISPLAY & PRESENTATION SYSTEMS
Show the world who you are. Let your customers see what they simply must have. Present your staff with all the latest information.
Presentations, events and digital content delivered with flawless and stunning visual technology. 
Crossover design, supply and install a wide range of visual display solutions for all types of commercial space, including large-format videowalls, networks of digital signage screens, high-powered projection systems and stylish boardroom displays. 
Videowalls
Large-scale digital display solutions make a real statement, to current and prospective clients, and to your staff. Whether you're looking for a creative and attention-grabbing feature piece, or a very practical and cost-effective large-format videowall display the Crossover team can design and install the right solution for you.
Read More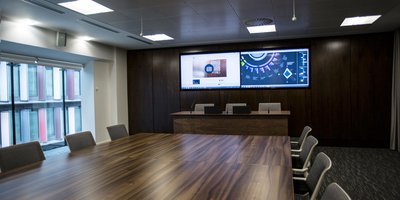 Corporate Presentation Systems
Presentations are an essential part of modern work life. The experience should be smooth and effortless, whether in an auditorium or huddle space, using vivid images and clear sound to enhance to message. People need to communicate their ideas with minimal distraction from technology. 
Read More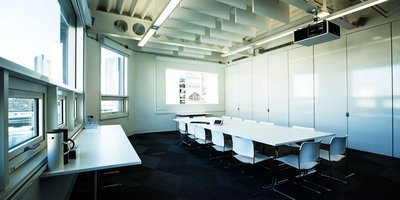 Projection Systems
Projectors are still often a practical and cost-effective way of delivering a large image size in a space. For presentations that need to reach a large audience and where ambient light can be suitably controlled, Crossover can design and install projection solutions for a range of budgets and aesthetic requirements.
Read More
Digital Signage
Captivating digital signage solutions give your organisation great flexibility in engaging customers and staff. Whether you require a single screen in your corporate reception space, or a global deployment across hundreds of retail outlets, Crossover can offer a one-stop solution, including design, content creation, hardware supply and installation, staff-training, and ongoing support.
Read More
Wireless AV Connectivity
Wireless presentation in corporate meeting rooms and presentation spaces is now commonplace, blending well with a modern flexible approach to sharing content amongst an audience or huddle group. Crossover can guide you on the right choice of wireless connectivity and content sharing, for a reliable and user-friendly experience (and less unsightly cabling).
Innovative Display Solutions
It is often in showrooms of the world's finest brands that you'll first see an innovative AV display system exploiting the latest available technology used as an attention-grabbing feature-piece.When it comes to contemporary display systems, there are many possibilities, and Crossover can offer a wide range of options to meet your budget, your preferences and your site's requirements.
Read More