COMMUNICATION & COLLABORATION
The cornerstones of successful teamwork
The landscape of AV and communication tools to support communication and collaboration in the modern business changes on a daily basis. 
Crossover help modern enterprises of all scales make best use of the available technologies to update and improve their workflows and processes, optimise the flow of information through their teams and enhance the collaborative experience. A big factor in achieving these benefits is designing and installing suitable audio conferencing and videoconferencing solutions from the wide range available in today's market.
videoconferencing from home
Almost overnight, remote work has become mainstream. Companies around the world, have instructed their employees to work from home, prioritizing the health and safety of their workforce and communities. With a large percentage of the country's population going into self-isolation and having to work from home, many businesses will not be able to offer their services in a traditional way.
Read More
Livestreaming
Whether it's streaming a live lecture, or having a class of students all join into a Zoom meeting, or maybe you're making and broadcasting a pre-recorded training video, we have created a great pre-made package that we know just works.
Read More
Lecture & Remote Teaching Packages
Crossover's streaming and broadcasting packages are proving particularly popular in recent weeks, with demand looking to peak from education and training organisations. The packages are self-contained, designed to help get your teachers, lecturers and trainers get connected within minutes.
Read More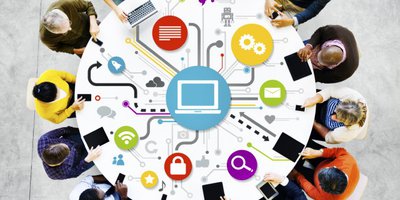 Unified Communications
Co-workers can significantly boost productivity when they can communicate using whatever platform they choose, from wherever they are. Unified communications (UC) effectively eliminates incompatibilities between everything from phone to instant messaging to videoconferencing and more, maximising efficiency across whole workforces. As early adopters of this collaboration revolution, Crossover has expertise in all its complex elements, and works closely with IT and facilities teams to seamlessly integrate each client's ideal unified communications design and set-up.
Read More
Videoconferencing
Proven to deliver huge savings in time and travel expenses, videoconferencing is a well-established tool in today's collaborative business models. With extensive experience in this area, Crossover is ideally placed to help you establish your specific needs and navigate the massive array of features and solutions available. We will design and implement a scalable solution across your business that 'just works', is as simple to use as making a call from a smartphone, and is within your available budget. 

Read More
Audio Conferencing
For a long-established technology, it's surprising how much audio conferencing can suffer from quality issues, which can seriously undermine the flow of business meetings. Crossover knows the audio conferencing market inside out and has a huge audio engineering pedigree, meaning we expertly tailor solutions to each client's specific needs and acoustic environments, ensuring clarity, reliability – and your business' efficiency. Where relevant we can also implement acoustic treatment in your meeting rooms, with cost-effective and aesthetically pleasing designs.
Touch-Enabled Displays
Touch-displays are often by far the most simple and intuitive way to interact with and control AV environments, from simple room scheduling and wayfinding to interactive presentations and highly creative digital brand signage. With decades of experience, we can guide you through the huge range of options, and our digital content specialists can create dedicated brand-aligned media content from scratch. 
Visualisers
Crossover will always proactively suggest vision-led ideas and products which will help you captivate boardrooms, trainee groups and classrooms. When you need an audience to really grasp the detail of a product or object as if they could touch it, visualisers are a game-changer. These devices transmit in real time full high-definition images of flat and 3D objects up to the size of a basketball onto the room's flatscreen displays, or via screen-sharing software to any remote participants. 
Interactive Whiteboards
Also known as smart boards, interactive whiteboards  and other interactive display systems are powerful tools in business presentations and collaborative sessions. Harnessing the instinctive gestural controls made familiar by tablets and smartphones, these devices' interactive features powerfully engage audiences and allow evolving presentations or workshops to be captured for review and distribution. We can also integrate multiple devices through an app, to enable real-time, long-distance collaboration.
Office 'Wormhole'
A new trend within the corporate multi-site business world is the intra-office 'wormhole', essentially a videoconferencing link between two separate offices that remains open at all times facilitating instant 'face to face' meet-ups between colleagues working in different geographical locations. Having such an accessible means to communicate fosters closer working relationships between different office locations, saving time and energy on setting up videoconference 'virtual meeting rooms', emailing invites and calendar scheduling etc. Instead real-time discussions can happen 'on the fly' as colleagues jump onto the wormhole system to discuss ideas and solutions in a clear and straightforward fashion.