AV for Euromoney in the City of London
Euromoney magazine was created in 1969 to cover the re-emergence of the international cross-border capital market. Euromoney reported on, and championed, this market and its growth, in the process becoming the prime magazine of the wholesale financial world, its institutions and its users. 

In 2014, now a global brand with 2,300 employees and main offices in New York, Montreal and Hong Kong as well as 20 regional offices, Euromoney moved their global headquarters into two newly re-developed state of the art buildings in Bouverie Street, a prime estate in the heart of the City of London.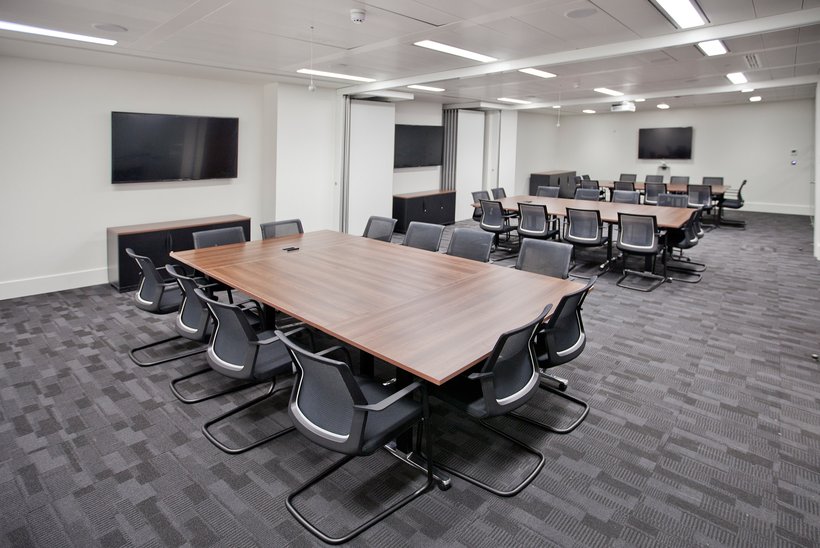 Audiovisual solutions for corporate environments
The company's audiovisual needs were at the forefront of the design and fit-out process of the new headquarters. Of prime focus was the necessity for staff and board members to communicate clearly and efficiently with dozens of worldwide offices on a daily basis from various areas and departments of the two buildings, as well a requirement for top class flexible meeting and conference spaces where information could easily be relayed and presented using the most up to date, market-leading technology. 

Most importantly, the complex audiovisual setup – spanning across 18 meeting rooms, board rooms, videoconferencing environments, training rooms, collaborative spaces, breakout spaces and the buildings' reception area - was to be easy and user-friendly to operate even for the least technically-savvy users. Crossover was chosen to deliver project particularly due to our acumen and pedigree in designing and implementing the type of prestige tailor-made AV control systems that enable precisely such intuitive control of the user's environment, as proven in previous similar projects such as TripAdvisor and 110 Rochester Row.
AV Solutions Overview
Two large multi-purpose conference spaces, each composed of three individual meeting rooms that can be joined together in any combination, fitted with latest cutting-edge projection, video conferencing, wireless collaboration and AV control technologies.
A dozen rooms equipped with the latest Polycom High Definition videoconferencing systems as well as the impressive Barco wireless collaboration systems, enabling Euromoney staff to share presentations and videos wirelessly from their laptops to their international colleagues at the click of a button.
State-of-the-art BrightSign digital signage systems across all floors of both buildings.
Bespoke-designed AMX control systems across all AV-enabled rooms, ranging from simple wall-mounted keypads in the simplest of room configurations, to secure wall-mounted iPads with sleek custom-tailored interfaces and a user-oriented design approach for each of the larger rooms. In the multi-purpose spaces, the control systems self-detect whether the partitions are open or shut and adjust the 'room mode' (and thereby all associated routings and control options) automatically to ensure that, for example, a user will not see buttons to operate a projector or videoconferencing system that isn't available to them in the current room configuration.
AT A GLANCE
Scope of Works:
Design, supply, installation and ongoing contractual support services for all audiovisual, videoconferencing and digital signage systems.
I just wanted to send you a note to say thank you for all of the effort that Crossover have put into the audiovisual fit out of Bouverie Street. In an incredibly small amount of time, with a large amount of requests for change, you and your team have done a fantastic job. Please pass on my thanks to everyone who has worked on the project over the last couple of months.