Crossover have many years of experience installing and integrating videoconferencing systems in boardrooms, meeting rooms and conference spaces. Working with multi-national clients in industries such as finance, construction, hotels, media and communications, we understand the pros and cons of a wide range of conferencing options.
Contact us today to discuss the best videoconferencing solutions for you.
Videoconferencing for all types of business
Videoconferencing (VC) is an established part of modern business interaction, with the capacity to save on time and travel expenses in bringing people together to present and develop ideas and content.
Its a technology market that is constantly evolving, so Crossover also move with the times and begin each system design with a blank page and an open mindset, aiming to tailor our systems to your exact needs. Our variety of videoconferencing services and solutions, and skills installing and supporting them, make us one of the top videoconferencing companies in the UK, with a large number of installations and clients in London.
We can also recommend and supply first-class tools for videoconferencing from home.
From PC-based conferencing systems, to best-in-class VC with integrated presentation and audio systems, Crossover will find the options to work best for your business.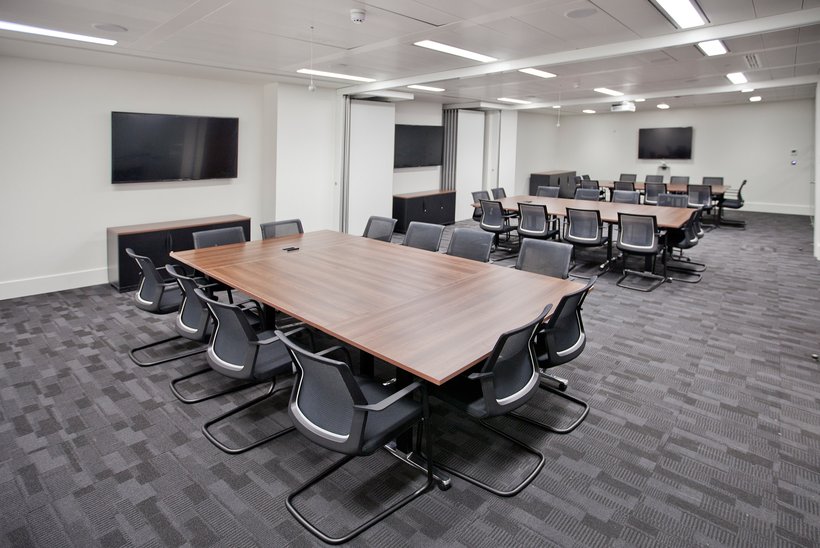 Key considerations when choosing a new VC system
A commercial videoconferencing system, in a modern office, meeting room or conference centre can vary in factors such as audio/video quality, connectivity needed to other hardware and VC platforms, level of scalability throughout the organisation, and security of data.
Effective implementation and installation of conferencing systems must consider the physical meeting room environments and how acoustics and room layout will affect the conference audio. One of Crossover's key strengths is successfully integrating AV, IT and conferencing systems. We develop holistic control systems featuring simple, activity-based options that even non-technical people find quick, easy and intuitive to use.
Ease of use - There's no point investing in VC systems if they are technically intimidating for the majority of potential users. Control should be intuitive for even non-technical staff. Administration for IT staff should not be weighed down by compatibility issues, workarounds and add-ons. 
Cost - A modern laptop, tablet or phone can take advantage of many 'free' tools to enable a face-to-face call. Whilst these tools may not meet the requirements of a professional organization, budget is always a concern and extra costs must be justifiable.
Quality and Reliability - Audio and video streams must be clear, with zero drop-outs, glitches or service down-time.
Connectivity and Compatibility - Typically individuals in the business will already use certain platforms to communicate either internally or externally, and will wish to continue using conferencing tools they know and understand. If multi-point calls are required, i.e. calling more than one endpoint at a time, this may require a higher level of service from the chosen VC platform.
Scalability and consistency - Businesses want to be able to rely on one VC platform they know works well when videoconferencing in the context of a small 'huddle space', a large multi-party meeting, or a VC call from a desktop, laptop or smartphone.
Security - Sensitive information should be appropriately protected.
Videoconferencing solutions for all types of space
To illustrate the wide variety of VC requirements, consider the following 'endpoint' conferencing systems:
Smartphone, Tablet or Laptop running a videoconferencing app.
Desktop: PC-based VC platform (such as Microsoft Teams, Zoom, Skype for Business, Google Hangouts), using a USB webcam and headset.
Huddle space: Speakerphone featuring a loudspeaker and microphone, along with a simple smartphone-like touchscreen interface with dialling and VC functionality. Wall-mounted Full HD display screen and fixed Full HD camera.  
Boardroom: Standards-based VC system, PTZ (Point Tilt Zoom) cameras using face-tracking  software, audio system incorporating ceiling speakers and ceiling microphone arrays (or wireless microphones placed on the desk), audio signal processing to eliminate echoes and noise, Full HD display screens, wireless content sharing. Full control over dialling and all other VC and AV functionality with a bespoke iPad-based control system featuring an intuitive, activity-based, custom-branded user-interface.
Whether you're looking to improve upon the quality of a basic webcam setup using a platform like Zoom, Skype for Business, Microsoft Teams or Google Hangouts, or equipping a high-end boardroom with a secure and rock-solid conferencing system of superb quality as part of a broader AV overhaul, Crossover have the knowledge and experience to guide you through selection, installation and adoption of the videoconferencing and audiovisual technology that will work best for your business.

Who are the leading brands for video conferencing equipment?
In no particular order...
Poly (formerly Polycom), Cisco, Lifesize, Logitech, Huddly, Crestron, Shure

And for Cloud-based virtual meeting rooms and bridging services?
Microsoft Teams (supercedes Skype for Business), Zoom, Google Hangouts, BlueJeans, Pexip (formerly Videxio), Lifesize Cloud
Call us today on +44 (0) 20 7700 1380 to discuss videoconferencing solutions that would benefit your business
Let Crossover help you navigate the wide range of videoconferencing options to find and implement solutions that work best for you.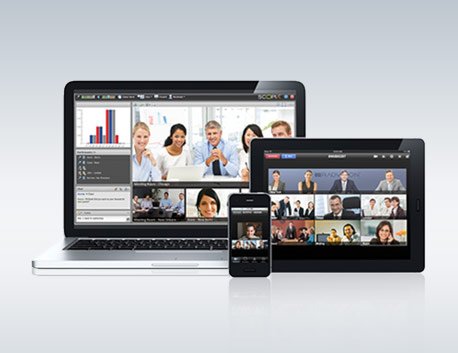 Bespoke app-like control systems for VC and AV functionality running from a master iPad for smooth and intuitive operation