At Crossover we're always searching out and testing new technologies to keep our clients one step ahead of industry norms and to impress their customers with an innovative and contemporary image. Here we look at some eye-catching new display and projection screens, leaving you to imagine how harnessing these awesome technologies can get your message across in fresh and inspiring new ways and make your business a talking point. 

Holographic effect projection screens
Futuristic and elegant, the projected images appear to hang in mid-air. This amazing technology still allows screen transparency whilst displaying bright, sharp and vibrant images even in high-level ambient light conditions. Manufactured as a self-adhesive film, or a glass or acrylic screen, the holographic effect is a next-level choice for museums, live events and product launches. Guaranteed to generate attention!
Pictured below - using holographic screens as an overlay at an event to embellish a performance and give an audience a unique visual experience.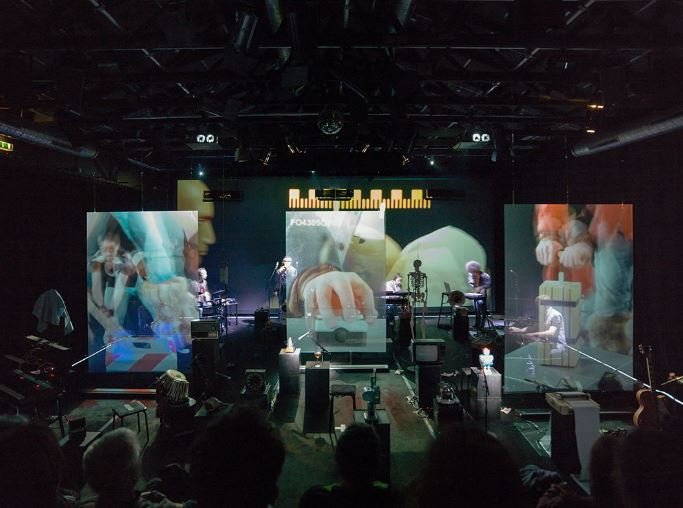 Switchable Smart Glass & Smart Film Screens

Turn regular glass into a frosted screen at the flick of a switch and back again. The technology works on an electrical principle transforming the translucent qualities of the material. Switchable smart glass supports HD rear projection in frosted (high contrast) or transparent (holographic) modes. Switchable smart film offers the perfect solution for retro-fit installations onto existing glass. 
Have the advantages of openness or privacy, quicker than the fastest blinds you've ever seen, with the smart glass frosting effect. Use the glass as a projection screen to add colour and interest to your space with abstract light effects or serious bespoke projected content to inform, influence and inspire. 
Dual Image Projection Screen & Projection Film

For projects where the screen / display needs to be seen clearly from both sides dual image projection screens and projection film provide 360 degree visibility. 
Sun Readable Rear Projection
SunScreen is a revolutionary new technology that enables clear and readable rear projection in direct sunlight. The screen has a light reflecting optical filter that deflects the external light, which severely impairs the clarity of other projection systems, providing sharp and bright images even in broad daylight. 
Mirror Advertising Screen
A display screen that doubles as a mirror is perfect for blending in with certain environments, particularly fashion, retail and showroom. Mirror screens even fit well with very traditional interior designs. In either framed or frameless variations the mirror advertising screen includes a HD media player so that content can be uploaded via USB stick and scheduled with built-in digital signage software to appear at various times during the day. 
Transparent LCD and OLED Displays
Transparent LCD and OLED display screens create new and fresh applications for display cases, retail windows, museum exhibits, interactive games and beyond.
In the LCD version, solid black pixels on a transparent background can be used in intriguing ways to hide (and gradually reveal) whatever is behind the screen.

Transparent OLED screens require no backlighting, so can be used without a showcase for stunning effects. 
Stretched Displays
An Ultra-Stretch commercial display provides an immersive viewing experience at Ultra HD resolution (3840 x 600). 
Used for ultra-wide screen images, or even for multiple pictures side-by-side, allowing for a variety of content to be incorporated in a sophisticated multi-purpose digital signage solution. 



Fresh, captivating ways to get your message across and show the world what you're all about