Make a powerful impact on customers and staff alike with large-scale LED videowall displays that have been perfectly tailored to your existing space by Crossover.
Crossover design and install videowalls for commercial premises
Crossover has specialist knowledge of the latest videowall systems. Our engineers can source and install video wall screens that meet your exacting specifications, and they will use their exceptional experience in AV design to find solutions that take any preferences or limitations into account.
We typically install videowalls in event venues, conference spaces and key retail advertising and showroom locations – but whatever your vision, we're confident we can find and tailor the technology to suit any creative purpose. 
In many cases, LED wall screens can be used to create a display that's just as impressive and attention-grabbing as a large format, single screen setup, but at a significantly lower cost. Talk to us today to discover how we can help you enhance your AV setup and create a striking videowall installation that will transform your commercial environment – at a price point that suits your organisation. 
Get creative with cutting-edge multi-screen LED displays
Whether used to present or promote, videowalls are impossible to ignore.
Because of their size and scale, videowalls have the ability to capture the attention (and imagination) of your audience in a matter of milliseconds. Often comprising 9 screens or more, videowall solutions can be used to communicate a single message, or deliver multiple types of information simultaneously, depending on the end goal.
Advances in AV technology have ensured that any kind of imagery, as long as it's of a suitable resolution, will be rendered crystal clear, even on videowalls that are metres in diameter. Content can be displayed from any source - such as a digital signage player, streaming device or laptop - and controlled elegantly – in many cases, through a simple keypad or tablet-like device – and we can configure your wall screens to display your graphics according to any configurative requirements, taking the operational complexity out of your project.   
Major manufacturers are increasingly releasing displays with narrow bezels, too, so many videowalls appear to be almost completely free of visible joins – a real advantage for clients who favour a contemporary look and want to maintain the visual impact of their space. 
Videowall displays, mounts and peripherals
Crossover are manufacturer agnostic and work with all the key providers of videowall displays - including Samsung, NEC, Sony, Panasonic, LG.
Our technical team also take great pride in meticulously installing the correct mounting brackets, to create the most seamless and geometrically correct final product.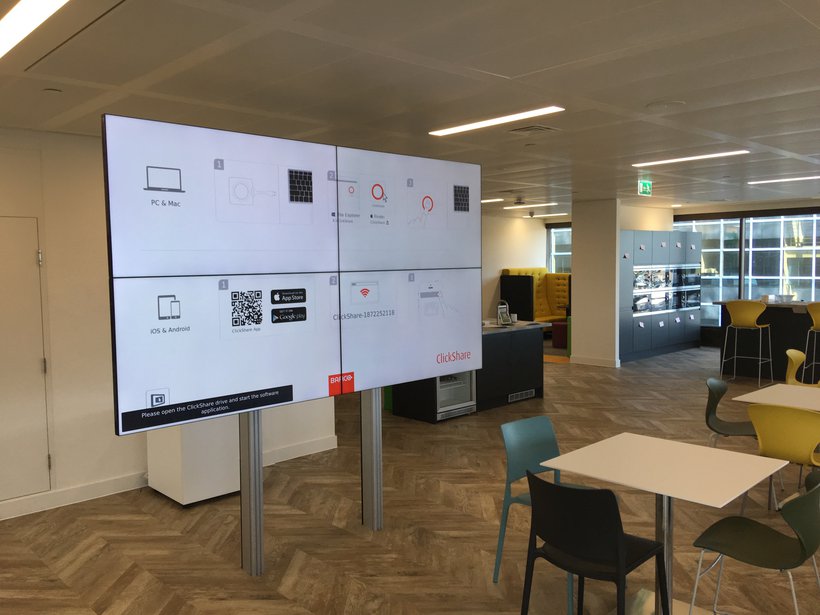 ---
Call us today on +44 (0) 20 7700 1380 and discuss your videowall requirements with our experts