The Client
Sweat by BXR, Doha enhances the key concepts developed in BXR's London boutique fitness venues, with better equipped studios and luxurious amenities, launching the Sweat by BXR brand overseas in the capital of Qatar. Launching in 2020 the boutique fitness operator offers industry leading group exercise classes, designed to boost cardio fitness, strength and conditioning, boxing skills and mobility.
The Project
Based on Crossover's design and installation work on the audio and lighting for Sweat by BXR in Canary Wharf, and our pedigree in providing audio and lighting in the leading boutique fitness facilities, Crossover were engaged to provide AV design and consultancy services for the high-end Doha fitness studios.
Award winning design luxury interior and architectural design agency Bergman Interiors, who also worked on the original BXR gym and Sweat by BXR in Canary Wharf, provided styish, high-spec fit-outs throughout the venue.
Immersive workout spaces were designed by Crossover for the cardio and boxing studios, featuring nightclub-style audio systems and dynamic lighting systems programmed with a range of lighting sequences suited to the varying intensities of the group workout classes.
AV and Audio Consultancy for Boutique Fitness
Crossover are also experienced in providing international consultancy for audio, AV and lighting, having worked with various overseas clients who benefit from our years of experience and know-how. As with the BXR Doha project, our consultants are expert at guiding clients through the difficult early stages of a project, right through the design consultancy process, finding and selecting high-calibre local installation partners and providing advice for the long-term service and maintenance of the installed AV and lighting systems.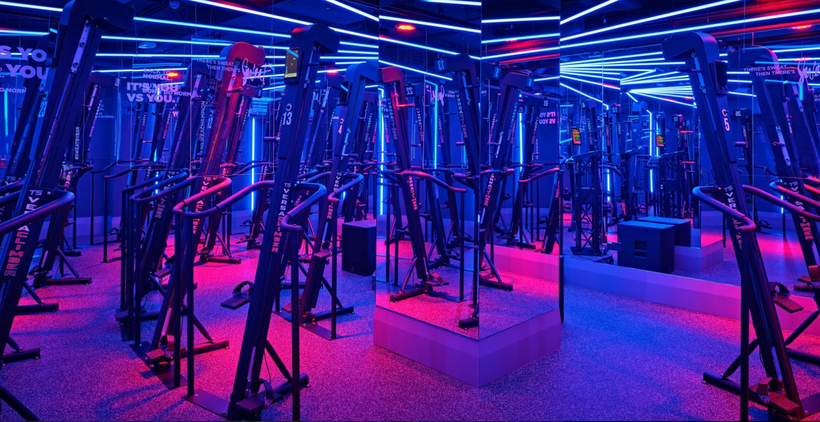 Read more about our project work for gyms and boutique fitness studios here.
Contact us for more information about our consultancy services for AV, audio and lighting projects in the UK or overseas.
Sector:
Luxury gyms / boutique fitness studios
Project:
Audio and lighting systems consultancy