The Client and the Site 
One Housing Group (OHG) is one of London's largest Housing Associations, developing and managing affordable housing across London and the South East. The Group also provides the best of modern housing care and support services that represent value for money at every level. 
The Group's £20 million redevelopment of Arlington has transformed the iconic building, in line with its long and notable history, into a contemporary, multi-faceted housing and enterprise centre. This ambitious project is the first of its kind in the UK, and has been modelled on a similar project in New York. The vast property incorporates a high-end 300 capacity conference space, over 3,000m² of social economy and enterprise space, artists' studios, 95 units of housing for homeless people, 35 units of flats available for sub-market rents, and a building trades centre. A truly valuable resource for the local community and businesses across London.
The Brief
Crossover was asked to deliver a multi-purpose, flexible, modular Conference centre. The main space was a very large, long room that contained two rows of pillars that had to remain. The space needed to be able to be used in many different combinations from one large theatre-style auditorium to three independent meeting rooms. The AV equipment needed to be high-end but very easy to use, both for in-house events and when the space was hired out. To design and install a digital signage solution for the building's major public spaces, including the main reception area, and to equip a fourth independent room to be suitable for use as a multi-purpose meeting room / classroom.
The Solution 

The installation included chasing over 3km of cable into the solid perimeter walls of the conference space. A 196" projection screen at the front of the room, is the main display for this expansive space. Eight reinforcement screens relayed video for those sitting further from the front, and are able to display a live feed from the ceiling-mounted camera. SMART overlays and SMART boards at various locations offer users touch-interaction as part of the presentation facilities. 'Intelligent' centralised control of the entire AV environment, including integrated control of lights and skylight blinds.  High Definition videoconferencing from Polycom was the focal point of one of the three rooms. Crossover managed the procurement process for all furniture for the spaces, taking the client to visit various manufacturer showrooms, and we also designed and fabricated bespoke furniture for the AV in each room, including a bespoke AV-enabled lectern. 
Project Highlights
The delight and amazement on our client's faces during the handover. Also, the high-profile celebrity-packed launch event, including keynote speeches from Boris Johnson and Tracey Emin.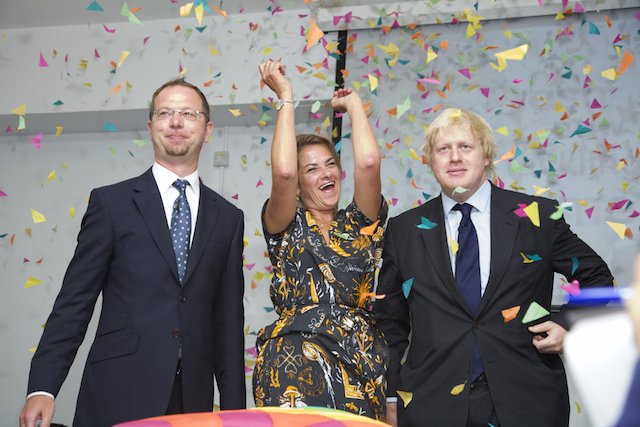 At a glance
Scope of Works:
Consultancy, design, supply, installation and ongoing contractual support services and events support for all audiovisual, videoconferencing and digital signage systems.
Project Type:
Conference Centre
Total Project Budget:
£20 million
Crossover's service was of very high quality, and they were able to communicate with us in a very straight forward way without jargon. They were able to work in a challenging environment in a collaborative and constructive manner. They delivered on time and on budget. I would definitely recommend Crossover.