Situated in the heart of the digital and creative quarter of London Bridge, Experience Lab have three sophisticated purpose-built user experience (UX) testing and observation labs. These facilities are perfect for conducting research events and interviews, focus groups, advanced user experience testing, small group and one-to-one sessions, where evidence gathering and recording are essential outcomes. 
Crossover were chosen above stiff competition to deliver first class audiovisual systems for these facilities, working closely with Experience Lab for well over a year in the design and consultation process. 
Serco, the parent company of Experience Lab, is a FTSE top 250 company managing over 500 public service contracts and employing over 50,000 people worldwide. Serco's investment in Experience Lab is part of a commitment to make a difference through researching issues relevant to the public sectors they serve. In addition, private sector clients are helped to understand their own customer base and hone product designs accordingly.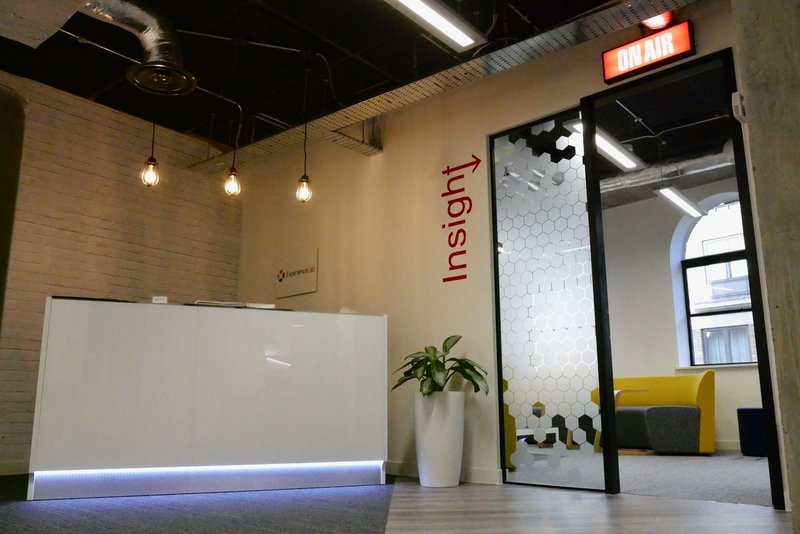 Experience Lab clients include:
BBC
ITV
SKY
Samsung
Microsoft
American Express
HM Revenue & Customs
BT
Lloyds Banking Group
Sony
Studios
Three different studios are available and fully equipped with audiovisual equipment that has been meticulously installed, accurately configured and rigorously tested by Crossover to ensure high quality and reliability:
The Insight Lab: a flexible lounge-style space ideal for co-creation or larger focus groups (12 participants)
The Collaboration Lab: a medium sized lab ideal for research interviews and small group sessions (8 participants)
The Engagement Lab: Perfect for one-to-one sessions and usability (UX) testing (2 participants)
Functionality
In each lab the client is provided with:
 Full HD video and sound recording capabilities, with a dual-input high-spec recording PC allowing recording AND streaming of the testing sessions simultaneously, allowing remote participants to observe and collaborate, and for recordings to be analysed / viewed at a later date

 Full control over the recording sessions from a bespoke iPad-based system, giving control over the image selection and camera angles

 Full visibility and audibility from an isolated observation booth, segregated by one-way mirrored glass and an acoustic partition.
In the observation room of each lab the client has a multi-display screen setup enabling them to view camera images, video sources, or any test devices connected to wallplates / flooboxes in the test room.
iPad control app
From the iPad observers can pan, tilt and zoom Full HD cameras mounted to capture user's facial expressions, or to view their gestures as they interact with other people in the room, or the devices under test. Similarly focus group discussions taking place in the training / testing room can be observed and recorded for playback and distribution at a later stage. 
Below: The bespoke iPad-based control app gives Experience Lab full control over the AV environments in each of their labs
Audiovisual Technology for UX Testing
Sound is captured by sophisticated ceiling microphones from high-end conferencing manufacturer Polycom. These golf ball sized mic arrays actually contain three separate microphone capsules, which are intelligently switched to focus on the person speaking.
In the observation room dual Full HD display screens present either the images from the testing room cameras, or the video input sources (e.g. the games being tested, or content streamed wirelessly). 
A powerful dual-input recording PC captures pictures and sound from the training room, giving Experience Lab the ability to review and analyse the data captured during testing. 
Installation 
During the installation and build process Crossover worked closely with leading office design and fit out specialist Area Sq. Collaborating to meet tight deadlines and exacting standards of quality.
Industry:
Research and design consultancy
Project:
Testing and Observation Labs