The Client and the Site
Based around the values of craftsmanship, sustainability, urban renewal, good honest artisan food and real passion, Mercato Metropolitano is set to be a choice destination for discerning food lovers from all over London and beyond. Free to enter and with a totally inclusive philosophy, the lovingly crafted site is a melting pot of great food and interesting decor, all designed around bringing people together to break bread. 
With a set of highly successful venues in Italy, Mercato's 45,000 square foot London site, once a disused paper factory, is located in the new 'SoBo' (South of Borough) area of London, part of the Borough Triangle that is currently undergoing a £3 billion redevelopment. 
Specializing in selected small producers from Italy, the UK and the rest of Europe, Mercato Metropolitano boasts a wide selection of food and drink to delight all tastes. Using only the very best ingredients and wearing an artisan passion and philosophy on their sleeve, you can find an onsite pizzeria with imported stone wood-fire stove, specialist butcher and charcuterie, a range of artisan breads and wines, fruit and vegetables, craft beers, plus classic Italian pasta, coffee, cheese and incredible flavours of gelati. 
Alongside a vast warehouse space housing a multitude of market stalls, the vibrant site also has an outdoor tent area with urban gardening, lots of spaces to sit inside and out, and a dedicated 4,000 sq ft supermarket - Prezzemolo e vitale - offering some of the very best produce from southern Italy. 
The Brief 
Crossover were brought on board to provide background audio across this huge multi-function space. For the project the site was divided up into the following main areas, which were to be configured as independent audio zones (i.e. areas where the music can be set to different volume levels):
Warehouse space for street food market stalls

Supermarket / Delicatessen

Outdoor tent area

Outdoor seating area

Background music is an important part of the overall experience of the site, therefore Crossover were tasked with achieving sound coverage across a 45,000 square foot site, whilst keeping the costs for the audio system and installation as low as possible. 
Mercato were aiming to open the venue as early as possible, to take advantage of the English summer time for outdoor eating and drinking. Hence the project deadline was very much 'ASAP!'.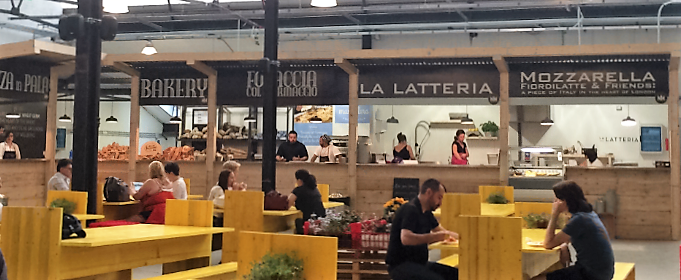 The Solution 
With the help of many years experience in finding cost-effective solutions for a range of background audio systems, Crossover carefully selected several loudspeaker options suitable for providing quality background music in each space, allowing the Mercato team to 'mix and match' the loudspeakers to suit their budget exactly. Speakers selected for the outdoor areas had to be resistant to weather and dirt, as well as providing superb value-for-money, audio quality and reliability.  
During the installation a selection of techniques were used to discreetly mount the indoor and outdoor loudspeakers on a range of surfaces to achieve optimum sound coverage in a cost-effective way. 
A multizone sound mixer housed in a central equipment rack allows each area to have different volume levels and inputs sources, so that staff can connect an iPod, smartphone, laptop streaming Spotify etc with background music to suit the mood in each area. Alternatively one soundtrack can be played throughout the venue, with higher volume in the outside areas (which have a high level of background noise). 
Volume control wall-plates installed in each audio zone give staff an easy and convenient means to control the local sound volume level. 
The Crossover team took great pride in expert setup and calibration of the audio systems, and were delighted to make a significant contribution to the lively atmosphere in this very unique and interesting venue. 
Total Project Budget:
£1.2 million
Mercato Metropolitano brings a little taste of Italy to South East London